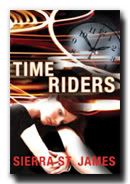 Time Riders by Sierra St. James
Sheridan and Taylor are on their way to study at the university library when a light suddenly appears in their dorm room, and they awake to find themselves pulled 300 years into the future. They have mistakenly been pulled into the future by 24th century scientists, who are looking for an influential scientist named Sheridan Taylor. They are sent off to live with historians called wordsmiths, who can speak 21st century dialect. The 24th century language has taken on a new accent, adopted a lot of Spanish words, and forgotten a lot of the idioms used in the 21st Century. Taylor and Sheridan stay with Echo and Jeth and teach one another about their cultures, but this arrangement is only temporary until they can find the real Taylor Sheridan. Taylor knows that she is the Taylor they are looking for and tires to keep every think quite before their captors find out and use her to change the past and future. In the meantime the two girls have to avoid having their memory swiped by the scientist that have brought them to the 24th century.
I really enjoyed this book. I really like the characters and how they react to the situation they are in. They are both so different and realistic. I also like how the futuristic world is described, and the dialogue reflects that world in a humorous and engaging way. The plot is creative and well paced, with an interesting twist ending. One of the unique things about this book is that it has a futuristic society with a corrupt government, but doesn't really get into the politics of everything. The whole book stays closer to the characters. I think the author did wonderful job at finding a balance between showing the effects of the government on the world, while keeping the characters central to the storyline. Very well written over all even if they are a few typos. I would recommend this to all readers. This is one that my husband saw me reading and then picked up and devoured as fast as he could.
Sierra St. James is the pen name for Jannette Rallison, who writes YA novels in the national market. I asked her once at a conference if she was going to write a sequel to this book. She said that she was concentrating on writing her national YA novels and spending time with her children. So, maybe she'll get around to writing a sequel or maybe not.
Here is her website:
http://www.janetterallison.com/