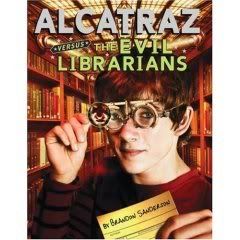 Alcatraz Versus the Evil Librarians

By Brandon Sanderson
Aspiring Asimovs! This book is clever, but you must be warned that the author is not a very nice person--at all. Remember that I warned you in this review so you can't blame me when you discover just how cruel he is, and it's not my fault if I get you in trouble with some particularly nasty Librarians if you pick this book up either. This book is about a boy named Alcatraz Smerdy, who has been shunted from foster home to foster home all of his life. In fact, he just might be on home number 27. Quite a feat for a 13-year-old boy, but there is a reason Alcatraz is moved so often. He has a unique talent, a talent for breaking things. Then on his birthday he receives a bag of sand from his parents for his inheritance. Alcatraz is not at all impressed with this gift until his grandfather shows up the next day and explains just how important the sands are to them in their fight against the evil Librarians, who control most of the world's information. His grandfather is too late(as usual) and the Librarians have already snatched the bag of sand. Alcatraz is then dragged into infiltrating the downtown library in order to snatch back this important bag of sand.
This was another wonderful book by Brandon Sanderson. I smiled and laughed my way through the book and loved all his cruel, yet witty asides. I would recommend this book for all ages, especially if you want something fun to read with your kids.
Brandon Sanderson also writes epic fantasy for Tor books. He has an awesome Trilogy out called Mistborn, and a stand-alone fantasy novel called Elantris. Recently, he has gotten the honor of finishing the Wheel of Time series by Robert Jordan.
Linkage:
http://www.brandonsanderson.com/index.php