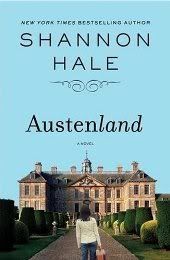 Book Review
Austenland
By Shannon Hale
Jane Hayes has had a run of crummy boyfriends; each relationship seems to fail for one reason, leaving her miserable and bitter. Her experience with men cannot live up to her fantasy dream of Colin Firth in the A&E version of Pride and Prejudice. Her Great Aunt Carolyn leaves her a surprising gift in her will. She gives her an all expense paid trip to Regency Era England at an actor's park named Austenland. Jane determines that this three week trip is the only way to get over her fantasy finally. Her one last hurrah helps her to realize important things about what she wants for her life. She gets entangled in a love triangle with two men, a comfortable gardener and a highbrow gentleman, but both of them are pretending for the sake of the park experience, or so she thinks.
This story is a sweet romantic story that puts a normal American career woman in a fun and fanciful situation. Jane's quirkiness made me laugh out loud several times. The setting is beautiful, creative, and plain fun. The whole story harkens back to Austen's style, and is a clever tribute to her works. I think that all Austen lovers will enjoy this book, as well as all clean romance lovers. So, if you have a craving for a clean romance with a Regency twist, then this is a well-crafted work to pick up.
Check out all the extras on Shannon's site, including alternate endings from earlier drafts!