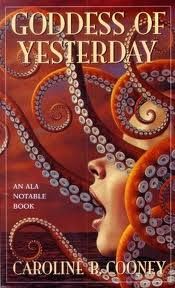 The Goddess of Yesterday by Caroline B. Cooney
At age six Anaxandra is taken by King Nicander to be a companion to his crippled daughter on the island of Siphnos. Anaxandra has adjusted to her new life when, six years later, Siphnos is sacked by pirates, and she is the sole survivor. When a fleet of ships stops on the island to investigate, she assumes the identity of Princess Callisto to survive. The ships belong to Menelaus, king of Sparta, and he takes her back to Sparta with him. But Helen, wife of
Menelaus, does not believe that this child is Princess Callisto. Anaxandra manages to stay out of harm's way—until Paris and Aeneas arrive. When Menelaus and his men depart to attend his grandfather's funeral, Paris and Helen's passionate affair plunges Sparta and Troy into war. (summary from good reads)
I really loved this heroic story of Anaxandra, who takes an epic journey from hostage to companion to a full princess, who owns an island. Set in the Aegean sea the author explores the beginnings of the Trojan war and what the events must have been like from the point of view of the woman involved. She portrays Helen as a powerful and cruel character, who wants the glory that comes when men lay down their lives for her.

She makes a terrifying enemy for Anaxandra, who must live in her household but avoid her notice as much as possible. When Helen leaves Sparta with Paris, Anaxandra

disguises herself as Hermione, Helen's daughter, so that Hermione can escape. She watches over and protects Menelaus' infant son, whom Paris wishes to kill.
When in the walls of Troy Anaxandra makes friends with Andromache, and Cassandra of Troy, whom the author portrays as real and sympathetic characters. I loved reading about Cassandra as I have always found her to be a fascinating and tragic sort of character. The novel did have a fair amount of violence that would make me suggest this book for the older teen set.

A great read for those that are currently enjoying the YA mythology craze.