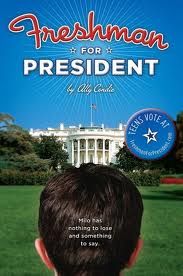 Freshman for President by Ally Condie
Fifteen-year-old Milo J. Wright and his best friend, Eden, are crazy to even consider participating in the election for President of the United States of America, aren't they? Never mind that Milo is twenty years too young. Never mind the fact that he'll have to balance the election with school, his lawn-mowing job, soccer practice, and trying to understand girls. There are time in life when you just have to go for something, no matter how impossible. Readers will discover that everyone, no matter what age, has something valuable to say. (summary from Author's Website)
So, I have been thinking about reading this book for a long time, but didn't really have the gumption to pick up the book because after all it is a book about a teenager running for president. It was hard for me to get over the ridiculousness of that idea because it would never work. So, this book asks a lot from the reader from the get go, which why it took me so long to pick up the book. Yet, despite the big hurtle I enjoyed the book anyway. Milo fully realizes that he isn't old enough to take office according to the constitution, but decides that it is worth running anyway.
I think one of my most favorite thing about Ally Condie is that she depicts teenagers in a real way. Even the best written YA out there is full of crazy, drama diva, rebellious teens, who often fall into extreme stereotypes that just make high school seem like a farce. Yet, Condie seems to hit things exactly right. Sure she puts her characters into a totally improbable situation, but her teenagers seem normal and real. They have that crazy energetic optimism of youth. They want to really make a difference and make the world a better place. Sometimes I think adults forget that many teens in all their boundary exploring and rebelliousness really do have some pretty cool ideas, and a sincere desire to impact the world positively. So, I really loved how Condie showed that aspect of her characters in this book.
This really is such an uplifting and refreshing read that shows that we don't have to win to have an influence, and that sometime success really is measured in the journey and not the destination.

Even if this book's premise is outlandish the characters make it worth the read.
Visit Ally Condie Website