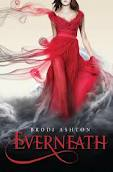 Everneath by Brodi Ashton
"Last spring, Nikki Beckett vanished, sucked into an underworld known as the Everneath, where immortals Feed on the emotions of despairing humans. Now she's returned- to her old life, her family, her friends- before being banished back to the underworld... this time forever.
She has six months before the Everneath comes to claim her, six months for good-byes she can't find the words for, six months to find redemption, if it exists.
Nikki longs to spend these months reconnecting with her boyfriend, Jack, the one person she loves more than anything. But there's a problem: Cole, the smoldering immortal who first enticed her to the Everneath, has followed Nikki to the mortal world. And he'll do whatever it takes to bring her back- this time as his queen." (Summary from author's website)
So I really enjoyed this book. I really liked how the author set up the love triangle in a way that made the book feel different from other books in the same genre. Her attraction to Cole was directly related to how he could take her pain away because of his magical abilities and the author put the Nikki in a position where it felt realistic that she would make the choices she did. I also really liked how the author portrayed the depth of the love that Jack and Nikki had for one another without making them makeout in every scene. Huzzah! The mythology in this one was fun because while it included Greek and Roman myths the key to the myth's magic was Egyptian. So I liked that twist and the fact that hints to the secret society the author created were found in many different myths from several different cultures.

So yeah, I would totally pick up the sequel to this one.