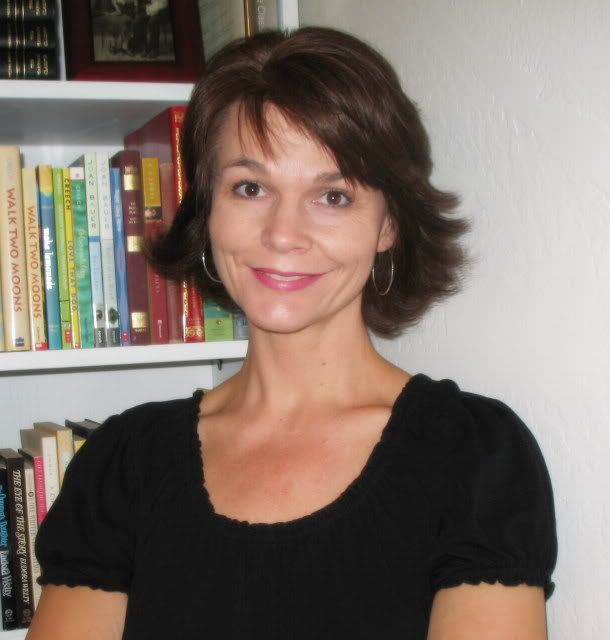 Gamila: Please tell our readers a little bit about yourself and your work.
Sharlee:I wanted to be a writer for as long as I can remember. I came from a family of readers. My mom used to claim that she must have had an extensive library stashed away somewhere in her womb--otherwise, there's no way under heaven her three girls would have consented to stay there for nine months! I started writing stories and poems almost as soon as I could form my letters, and I began my first novel at age 11. While in college and then later during my Master's program, I focused mostly on academic writing. I was teaching at BYU and busy raising my family when an idea for a middle-grade novel grabbed hold of me and wouldn't let go. I had no choice but to write the novel! It was published in 1998 by Bookcraft (which later became part of Deseret Book). My life was pretty crazy at that point. I was teaching at BYU, had just given birth to my fifth child, and was helping care for my mother who was dying of cancer. I flat-out didn't have the time or focus to be able to even think about trying to write another novel, so I decided to write picture books instead! I've now published three picture books: One in a Billion (Cornerstone), Keeping Up with Roo (G. P. Putnam's Sons), and Just What Mama Needs (Harcourt). Just What Mama Needs was recently featured on the EMMY award-winning PBS children's show, Between the Lions.
Gamila: What made you decide to publish picture books?
Sharlee: See above. :-)
Gamila: What authors in your field do you admire? Which of their strengths so you strive to emulate in your own work?
Sharlee:
The authors I most admire include Eudora Welty, Toni Morrison, and Marilynne Robinson. My favorite middle-grade/YA authors are Patricia MacLachlan, Sharon Creech, Lois Lowry, Katherine Patterson, and Gary Schmidt. As far a picture book writers go, I love Kevin Henkes, David Wiesner, and, of course, Maurice Sendak.
Gamila: The brevity of text in the picture book requires unique storytelling skills. What process did you take to learn this art?
Sharlee:Learning how to craft an effective picture book is a brutal process. It took me a long time to figure out the difference between magazine-type stories and picture books. I think it helped that I had written a lot of poetry. There are a lot of similarities between a poem and a picture book--rhythm, brevity, imagery, compression, etc.
Gamila: what is the most rewarding thing about being a picture book author? What is the most discouraging?
Sharlee:The most rewarding thing is hearing that kids love your book--that they beg their parents to read it over and over and over. The most discouraging thing is that the picture book market is so flat right now.
Gamila: I love the subtle way that you convey your characters in Keeping up with Roo. What experiences inspired you to tackle the topic of special needs adults?
Gamila: Before we end tell us about your most current writing project or most recent release.
Sharlee: My life has actually settled down a bit since I first started writing, so I'm returning to my first love--the middle-grade novel. I have a work in progress that I'm quite excited about, but I don't want to give away too many details! I'll just tell you this much: it's tentatively titled Spitting in Space. :-)
Spitting in Space? That sound like so much fun! Thanks so much for taking the time to interview with me.