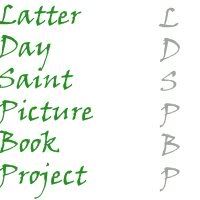 The bio on Kristyn's website explains that she wanted to be a children's book author from a young age, a desire that she expressed to her teacher as early as Kindergarten. She loved to match words and rhythm as a child. She took all the creative writing classes during her schooling in high school and college. She continued to attend writer's conferences and work on her craft until one of the instructors recommended an agent to her. She sent in several manuscripts and received and offer of representation. She has published five picture books all which have are heavily influenced by word play and rhythm.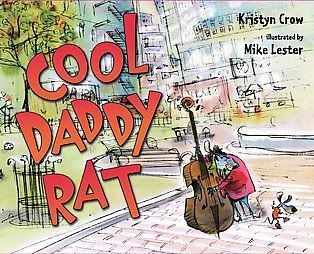 Ace's dad plays the best jazz around town, and one day he follows him to work by hiding in his instrument case. Ace watches his day play around town all day and gets a chance to show his dad some of his own groove.
This is a fun Jazz inspired romp. The text is full of fun scat rhythms, which makes it fun to read aloud.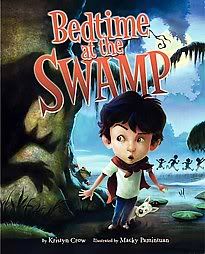 This was my favorite of Crow's books. A little boy is out in the woods during the evening and he hears a monster splashing through the swamp. He runs to safety in the branches of a nearby tree. Soon his mother sends out his sister to call him into bed, but she too hears the monster splashing through the swamp and joins him in the tree. How can they go home where there is a monster out there?
This scary bedtime story has a humorous twist, and text full of clever rhythm.
Lee has the low-down, big-frown mid-kid blues. Life as a middle child isn't very easy and so he expresses his troubles through this twangy picture book that reads like a blues song. There is so much he can't do being a middle child, but as he sings out his soul on stage he finds that others listen and understand his situation.
This is a fun book that will have you expressing a little groove in your tone as you read. It has the rhythm and pattern of delightful song lyrics that you love to sing over and over again.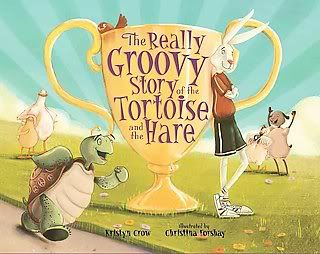 The Really Groovy Story of the Tortoise and the Hare
Didn't make the connection that this retelling of Aesop's classic tale was inspired from hip-hop rhythms until I read another review. I find it delightful that the Crow keeps finding new traditions to inspire her word-smithing.
The text and pictures have a wonderful modern and upbeat feel that makes this retelling feel fresh.
Note: I checked these books out at my local library and read them in order to write reviews. Also, pretend like this was posted yesterday, as I was supposed to do one of these during the month of January. I hope to post an interview with the author soon, so keep an eye out for that. Hope you enjoyed reading about Kristyn's work.