Dropping in to highlight only one picture book this week. I am trying to read my loot from the library! I bit off more than I could chew. Too many books, too little time!
Ten Rowdy Ravens by Susan Ewing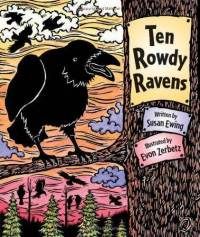 This clever little counting rhyme portrays the clever antics of ten mischievous ravens. Each pages reveals a new prank or game that the ravens engage in. From wild, whirling acrobatics in the air to stealing underwear from clothes lines these ravens are out to have a good time.
I love the artwork that illustrates the lively nature of these interesting birds. The back of the book has an mock newspaper, The Daily Kaw, whose news columns report real life anecdotes of ravens pulling pranks, showing off, and tricking the humans around them.
I have always found ravens to be interesting creatures because they are so intelligent and are always getting up to clever antics. So, I really enjoyed reading this book and devoured all the little articles in The Daily Kaw. This picture book is bound to satisfy the bird's admires and those looking for a humorous story.
visit
Susan Ewing's website.