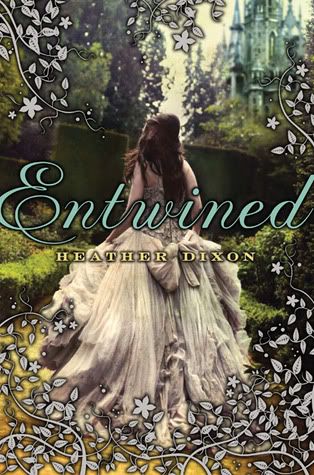 Entwined by Heather Dixon
When princess Azalea's mother dies it seems that all she cares for begins to unravel. Her father becomes stern and distant. She must dress in black and stay inside, and worst of all give up dancing, her most favorite thing of all, in order to observe morning. As the crown princess of the realm and eldest sister to 11 younger sisters she must make sure they all remain safe.
One night they discover a secret passage way in their room that leads them to silver pavilion where they meet Mr. Keeper, who allows them to dance their troubles and cares away each night. They do not realize that Mr. Keeper has another identity as the old high king trapped away in the palace for practicing dark magic.
They dance there many nights without a care in the world until slowly Keeper's darker side begins to reveal itself. Many years ago he made a blood oath to kill the Wentworth General, who displaced him on his thrown. Soon, Azalea and her sisters must destroy Mr. Keeper before he discovers a way to escape and kill their father.
Entwined is another retelling of the Twelve Dancing Princesses fairy tale. I enjoyed reading this story very much and loved the flawed character of the girl's father, the King. He leaves for war on directly after their mother's funeral, leaving the girls to believe he does not love them. So, when he returns and discovers his girls are ensnared in some kind of sorcery he does not get a warm welcome. In fact, it is charming to read about how this family learns to trust and love one another again.
Mr. Keeper is so dark and charming at first, but slowly becomes more creepy as the story goes on. He is an excellent villain that uses the girl's innocence about magic against them. He pulls trick after sneaky trick until you think he more slippery than a snake.
Then there are the dear sisters themselves. It is hard to write a cast of 12 sisters, but this author manages to make many of the girls distinct and likable. This band of sisters is practically its own small army and you can't help but root for their success by the end of the book. The icing on the cake to this wonderful tale is the fact that you get not one, but three unique love stories by story's end.