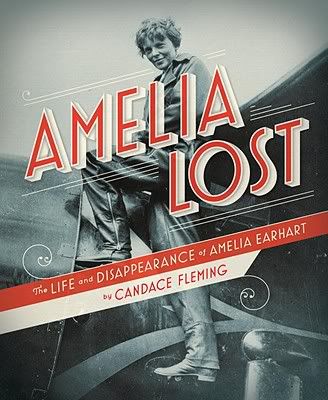 Amelia Lost by Candace Fleming
I previously read and reviewed Candace Fleming's biographies of Benjamin Franklin and Eleanor Roosevelt. So when I saw that she recently released a biography of Amelia Earhart I was thrilled. I ordered it in at the library and thoroughly enjoyed Fleming's talent for making history entertaining. The opening chapter starts with the dramatic story of Amelia Earhart's last but fateful flight. The scene portrays the instant when the navy crews expecting Amelia's arrival first realized she was lost.
The book then switches to information about Amelia's childhood, and those experiences that gave her the personality and interest for being an aviatrix. So, the biography continues to switch between the narrative history of Amelia's life and the dramatic clips about what happened after the Navy discovered that Amelia was lost.
I found this biography fascinating, as this time period is full of so much adventure. The author manages to convey just how dangerous the beginning of aviation was, and the progress that it made through Amelia's life. I felt that the biography showed just how courageous Amelia was but illustrated that her courage also made her reckless in her decision making. To every virtue there is the downfall. The biography also discussed how strongly Amelia felt about women being able to do the same as men, and portrayed this as a motivating factor behind her flying. As a result Amelia Earhart inspired a generation of woman. I found this honest and human look at this legendary woman to be inspiring and interesting.
I really love Candace Fleming. I hope she writes more books similar to this one, though they must take years of work.
Visit the w
ebsite of Candace Fleming