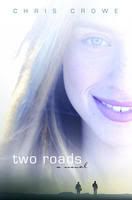 Two Roads
By Chris Crowe
Jared Hill is a missionary for the LDS church, and still has nightmares about the car crash that changed his life. He looks back on his high school experiences and sees how they changed his life for the good, but that doesn't mean they weren't painful. He falls in love with a beautiful Mormon girl, Leslie. Leslie and Rob befriend him his Senior year of high school and become his best friends.

Jared realizes that as he gets to know Leslie and her family that he is drawn to the Mormon church. Rob, though a member, likes to drink and party, and one night he drives Jared and Leslie home. The drive home ends in a terrible accident. Rob and Jared have to learn to find strength, and make tough decision in the face of tragedy.

This is a relatively short read; I finished it in one afternoon. The story kept me interested and engaged, and the writing was pretty good. I thought that the story-line was a little cliché, and a bit cheesy, but still enjoyable if you don't mind that sort of thing. If you are really craving an LDS Y.A. read then this is a good one to try out. I would have enjoyed this book more as a younger teen, now I enjoy more characterization. It is not as long or as emotionally wrought as a Kay Lynn Magnum novel, but still enjoyable.

Chris Crowe's Website: http://www.chriscrowe.com/index.html