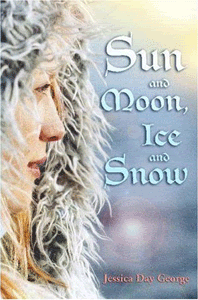 Sun and Moon, Ice and Snow
by Jessica Day George.
Jarl Oscarson, a woodcutter, has a large family and little to take care of them with. His wife is angry when they have another daughter instead of a son. So this daughter remains nameless except for pika, the word for girl. When Pika's oldest brother Hans Peter comes home from a treacherous five years at sea he gives her the name lass. Hans Peter and Pika quickly becomes close, and Pika wishes for a way to make the sad look in her brother's eyes to disappear. A polar bear comes and asks her to live in a palace with him, and she goes because the polar bear promises to make her family rich and comfortable, and something inside her says she should go. Though the palace is strange and enchanted, and Pika keeps asking too many questions and the servants start to disappear. Pika discovers that troll magic is behind everything and defeating it will bring the answer to the mysterious enchantment and make her favorite brother Hans Peter happy.



I was way excited to read this book since I really loved reading Dragon Slippers. I was not disappointed although I thought that the beginning of the book was a little slow on plot, but it still had a very nice fairy tale type of feel. According to the inside cover the book is," based on the Nordic fairy tale East of the Sun, West of the Moon." But it is delightful that the author would add Nordic words and phrases that give the book charm and character. The cover also compares the book to Beauty and the Beast, but I was getting Cupid and Psyche vibes, which is a Greek myth. In fact, the stories are so similar that I am wondering if the Greek tale influenced the original Nordic tale or if they are completely separate. Though, the question would be how would the Greek myth get all the way up to Norway? It's a mystery! I will stop with the random classics commentary now and tell you to go read the book for yourselves. It really is great! I'm now going to see if I can find the original fairy tale and read it. Hopefully, in English...



Jessica Day George's website: http://www.jessicadaygeorge.com/