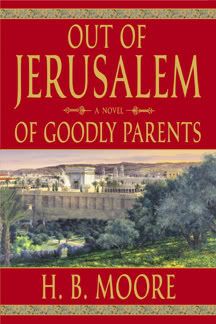 Out of Jerusalem: of Goodly Parents
by H.B. Moore
This first novel H.B. Moore's Out of Jerusalem series starts where any novel based on the Book of Mormon starts with 1 Nephi chapters 1-16. Moore explains that she does not want to replace the Book of Mormon account, but "to illuminate the events that took place…and perhaps add to the knowledge and possibilities that we as students of the scriptures entertain." The work has very interesting historical notes at the back of the book for each chapter, and the author has obviously made an effort to portray the woman in the story as part of the scriptural account, but also as part of the culture at that time.

I have to say that I wasn't really excited about reading this book. Part, of it was because I've read so many Book of Mormon historicals and novels. I've been reading LDS fiction for more than a decade, and I read voraciously in my teen years and could never get enough, and at that time I liked to read Book of Mormon novels. So, I'm kind of burnt out on the genre, and still haven't recovered. Though, it may also be because no one has done anything dramatically new or fresh. Yet, I had heard that H.B Moore was an excellent novelist, and she had won the Whitney award. So, I perked up and decided to give the Book of Mormon novel another try. I have to be honest and say that the writing didn't really impress me; the prose was simple and repetitive. The characters seemed to overreact to simple things or things that seemed unrelated. Plus, I felt that the author transitioned scenes in a very choppy manner.

That's quite a list of things I didn't like, but I decided to stick with it. In the end I really liked Isabel's character, and her relationship with her sisters and Nephi's mother. I thought that the romance between Nephi and Isabel was done really well, and that is probably where the book shines the best. I also was happy to discover the historical notes in the back and found them fascinating too. I'm not sure if it is fair to judge the rest of the series by H.B. Moore's first published book, and I'm considering reading the later books just to see how the writing improves. She also has a historical series about the Queen of Sheba being looked at by an agent. Not sure when it will come out, but the whole concept of the series sounds so interesting to me that I'll probably pick it up when it does.

Check out H.B. Moore's Blog:http://mywriterslair.blogspot.com/
Here is her website:http://www.hbmoore.com/