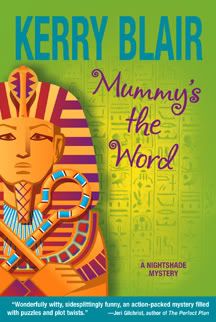 Mummy's the Word By Kerry Blair


Samantha Shade has a opportunity to prove to herself, her uncle, and her coworkers that she can be a successful private eye. Her uncle is ready to close down his private detective business unless she can show that she is ready to turn it over. She continues the business with the normal calls to spy on cheating husbands, and missing persons. Then an eccentric aristocrat asks her to guard a special artifact at a dinner party. The artifact is stolen right under Samantha's and her team's nose. This case may mean her dreams for Nightshade detective agency are at an end. Samantha is determined to find the artifact and return it to its original owner, so that she can keep the agency running.
I adored this book! I finished it, and liked to pick it up each day. It is so quirky and funny. I love the main character, and all the side characters for that matter. They are all unique, eccentric, intriguing. Sometimes, I felt the main character Samantha was too weak, or that she did unrealistic things, but the story is still charming and delightful to read. As a fellow student of Latin I loved all the classical myth allusions and the Latin phrases that popped up, which only made me like the book more
Author Website: http://www.kerryblair.com/
My favorite essay of hers over at Six LDS Writers and a Frog Blog: http://sixldswriters.blogspot.com/2006_10_01_archive.html
You have to scroll down to find it. I couldn't figure out how to just get an individual post, though I know that it is possible somehow. It's called "Do Drop in For a Spell." If only I could as biwitching as Ardena Leer.