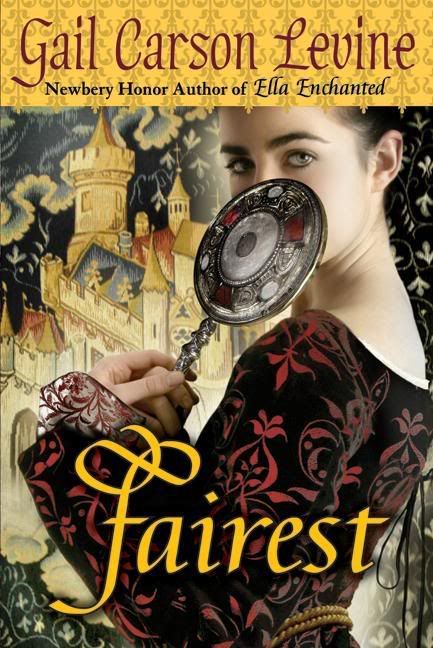 Fairest By Gail Carson Levine
Gail Carson Levine wrote this book in the setting of her Ella Enchanted world in the land of Ayortha, as fans of the Ella will appreciate. The main character Aza, an inn-keepers daughter, feels that she is so ugly that people visiting the inn refuse to look at her. Her only redeeming quality is her incredible singing voice. She has discovered that she can illuse with her singing voice, or make her voice sound like it is coming from the other side of the room. Aza becomes friends with a Lady, who stays at their inn often. When the Lady's companion gets sick Aza is invited to go with her to the King's wedding to be her attendant. When Aza gets to the castle she meets the prince and the King's new bride. Princess Ivi takes a liking to Aza and she becomes her Lady-in-Waiting. Aza is horrified when Princess Ivi manipulates Aza into illusing her singing voice for the Princess at singing events. One afternoon the King gets hit in the head during a centaur match and he lies in a coma for weeks. Inexperienced Princess Ivi takes over the ruling of the kingdom and starts messing things up. Aza soon discovers the source of Princess Ivi's ill-conceived ideas and exquisite beauty, but the discovery may cost her life.

This book was a retelling of the Snow White story. It was interesting to see Levine go back to her Ella Enchanted world. Though I must say I didn't like this story as much as Ella Enchanted. Aza learns that even though she is ugly she is just as vain as Princess Ivi for wanting to be beautiful. Vanity is a theme pertinent to the Snow White story and the story is entertaining and fun to read. Although sometimes I thought Princess Ivi has too much power in convincing people when they distrust and dislike her. As a result some plot threads were just a little too contrived to make sense with what the other characters knew about the queen's character. I do admire the fact that Levine wrote so many song lyrics for the book because the whole kingdom sings them all the time. A few of them were beautiful and well written, others were plain and ordinary, but they were enjoyable.

I would recommend this book to girls who liked retold fairy-tales or just the Ella Enchanted book. It is fun to read even if some of the plot points, in my opinion, are weak.
I chose to post this review today because I got to hear Gail Carson Levine speak this weekend at a BYU symposium for Sci-fi and Fantasy writers, readers, and fans. It was wonderful to hear her speak. Here is her website:
http://www.gailcarsonlevinebooks.com/