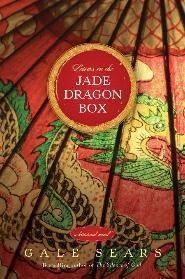 Letters in a Jade Dragon Box by Gale Sears
Truth.
In mainland China from 1949 to 1976, truth is all but eradicated, suppressed and supplanted by the iron will of Mao Tse-tung. Millions of people suffer untold anguish as their history, their culture, and their lives are brought under communist rule. Many flee to Taiwan and Hong Kong.
Letters in the Jade Dragon Box
is the story of one such refugee. Chen Wen-shan is sent, as a young girl, from mainland China to live with her great-uncle – a former general in the Nationalist Chinese army who was one of the early converts to the LDS Church in Hong Kong.
At the death of Chairman Mao Tse-tung, fifteen-year-old Wen-shan receives a mysterious wooden box that holds a series of beautiful painting and secret letters that reveal the fate of the family she has not heard from in more than a decade.
These letters shed light on a time and a place where, despite all odds, truth refused to be broken. (jacket flap summary)
So I know this book won a Whitney Award for last year, but really I was just blown away by how well the author pulled this book off. I felt like I could hold this book up to any national market novel in the same genre and subject matter and it would still shine like a gem. This book is so beautiful. The language it uses, the images it provokes, and the heart of its characters touched me deeply on so many levels. It is obvious that the author put a lot of thought and hard work into portraying Chinese culture and history, as its little details are woven seamlessly throughout the novel and make the character's world seem so real and immediate. Just go read this book now.

I would recommend this novel to everyone.
Visit Gale Sears Website