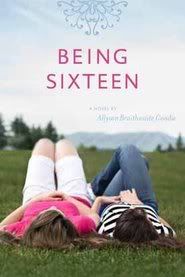 Being Sixteen
by Ally Condie
I loved so many things about this book! Ally Condie's writing only gets better and better. The main character Juliet begins the book feeling like she is on top of the worlds. When your LDS turning sixteen is a big deal, as it brings with it the ability to date, and go to school dances, and drive, and for this particular character to get onto the varsity basketball team at her school. For a while it looks like Juliet does have the perfect life, and then her coach leaves the school for a college basketball job. The new head coach doesn't like her, and she never plays. Then she discovers that her little sister Carly has an eating disorder and her carefully built expectations begin to fall apart.
Juliet struggles to keep her faith strong amid all these trials, and has to struggle with how to cope. I love how the author shows how she just keeps plugging away at everything, and how she grows. It is rewarding to read how the trials make her grow and mature as a character.
She begins to think things like this:
"But I couldn't stand to think about so of those cheerleaders nodding their head and saying that they'd been right all along. I did not want people to give Carly the label of the Cheerleader with the Eating Disorder. Because she was more than that. She was beyond any label, and so was every other human being."
I love that quote, and I love how it shows how trials make us think and grow in ways we wouldn't otherwise. If Juliet's year had been perfect she never would have seen how trite or harmful categorizing people into holes can be.
I love how the author shows that our choices often do affect others around us in negative ways. That family's and friends suffer along with those that suffer from disorders and negative behaviors. I think the book showed a realistic portrayal of trials without being too depressing or melodramatic, but also did not trivialize them by having them solved through prayers and faith.
This more than just a story about a teenager dealing with her sister's bulimia, and is the story about a teenager who learns who she is, explores what she believes, and how she reacts when the going gets tough. I would recommend to everyone.
I'm way excited that Ally Condie has another book, Matched, coming out in November of this year.
Look at that awesome cover
! Can't wait!