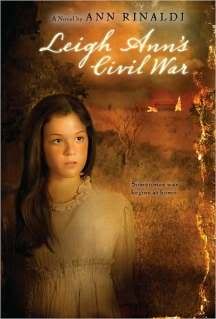 Leigh Ann's Civil War by Ann Rinaldi
"
Leigh Ann Conners is spunky and determined. Although she often finds herself in trouble, she loves her two older brothers dearly and would do anything to make them proud. When the Yankees arrive in Roswell, Georgia, Leigh Ann places a French flag upon the family's mill. She hopes the Yankees will then spare the mill from destruction, but her actions have disastrous results. Sent north with the women and children who worked in the mill—all branded traitors for making fabric for Confederate uniforms—Leigh Ann embarks on a journey that requires her to find her own inner strength. Only then will she be able to rise above the war raging around her...more"
(Book summary from author website)
I felt that the commercial summary of this book focuses too much on Leigh Ann's experiences after the north invades the south when that aspect of the book is a very small one. After the being introduced to this conflict in a dramatic prologue the first chapter starts at the beginning of the story. Just as the war is about to start and Leigh Ann's brothers are going off to fight for the South. Leigh Ann's family is in a unique situation as her mother has run off and abandoned the family in favor of having multiple affairs. Her father has started to grow senile in his old age and so Teddy, Leigh Ann's older brother, is her Guardian.


He tries to raise, educate, and take care of her in the best way he knows how. She is sometimes a spirited child and gets in trouble, but she loves him and the rest of her family and wants them to be happy. She discovers from her father's senile ramblings one day that he is an Indian. Apparently, his tribes were one of the few who chose to settle down and farm land just as white settlers around them did. This family heritage shows itself in various ways throughout the story. Louis, Leigh Ann's older brother, exhibits a type of Native American spiritualism that becomes important in protecting Leigh Ann later on in the story.


This was an overall good read. Ann Rinaldi is a prolific author of Historical Fiction and she always has some unique point-of-view or little-known story to emphasize or highlight in her novels so that her storytelling feels unique and fresh. I suppose this story was a little violent as Leigh Ann's mother appears and likes to hit people with a riding crop. She is not a good lady and is the archenemy of Teddy throughout the entire story. There is a weird guy, hired to take care of Leigh Ann's father, that tries to get fresh with her, but she threatens to poison him and he behaves himself. Not to mention that Leigh Ann's time as a bummer is really not a positive experience, but she show resilience and strength, and finds a way to protect herself and her sisters. There are good people as well as bad people along the trail of Leigh Ann's trials, and throughout the war.


The author admits in her notes that the prologue was really hard for her to write and I felt like it really didn't work with the book well. She wanted to use the prologue to hook people in and then started the story in Leigh Ann's childhood anyway. As a result it made other parts of the book feel awkward later because she couldn't retell that chunk of info when the character was in the middle of the situation. So, the book was a good read despite a few awkward plot parts, and in general I would recommend Ann Rinaldi if you like to read Historical Fiction.

Ann Rinaldi's Website