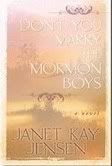 Don't You Marry the Mormon Boys
by Janet Kay Jensen
Andy McBride knows when he meets Louisa Martin that their relationship can never work out. He comes from good LDS family, and Louisa's family practices Polygamy. As they go through medical school together at the University of Utah they fall in love. Andy ends up working as a doctor in small Kentucky town. Louisa returns to her home in Southern Utah in polygamous community.
The town elders challenge Louisa's medical care to the other woman in the community, leaving her with little choices to help those around her. Andy faces down challenges in his own practice, making good friends and several enemies. When both have the chance to go to a medical convention in Finland they meet up once again. This time perhaps they will have the chance to be together again.
Don't Marry the Mormon Boys was a pretty decent read. I had fun reading about the strange people that Andy met while he was working in Kentucky. There are a few really funny scenes that made me laugh out loud. I also liked reading about Louisa and her family. I liked that the author showed good and bad sides to her polygamous community. Louisa had the chance to grow up in a good home with a good father. Yet, the author also shows that women were not treated well in the community, through the work Louisa did in her clinic. It was nice to read a treatment of polygamy that didn't completely vilify everyone who practiced it, but didn't turn a blind eye to problems either. The book doesn't have perfect writing, and a few scenes annoyed me, but the characters were unique and entertaining.
Janet Jensen's Website