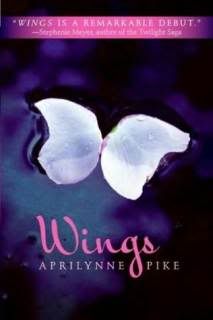 Wings
by Aprilynne Pike
Laurel has a hard time adjusting to High School after her family moved from the California countryside to the city. She makes friends with a boy in her biology class, David. Then just as things start to seem alright she starts sprouting a plant looking thing on her back, and when it unfurls it looks like wings. When she returns to her old house she meets a familiar stranger named Tamani, who tells her that she is a fairy. At first Laurel refuses to believe it, but then she starts to notice how different she is from those around her from the food she eats to the huge flower blossom on her back.


I especially liked Laurel's character in this story. I have to say I'm a secret nature lover myself. I'm no environmentalist, but nothing sparks my creativity like a change in seasons, and nothing clears my mind more than a quite walk among green things. Currently, I roll down my window when I drive through the forest on the way to work so I can smell the trees. So, I like Laurel's down to earth naturalness, and I could empathize with her embarrassing teenage predicament. What are you supposed to do when you have huge wings growing out of your back you need to hide from everybody? I didn't like David that much, he was a nice guy and all, but he was so nice that he was a little bland. Not that I would want him to be mean—not at all! I just wish that quirks of his personality were played up a bit more.


Wings was an entertaining first novel, though I didn't feel that it set up a sequel so well. There was kind of a romance triangle introduced as hook for the next book, but that was a little predictable. Still the book is a good read for those that like the Harry Potter/Percy Jackson/Twilight books. Wings didn't capture my imagination like Harry Potter and Percy Jackson did, but still, it was a fun read.