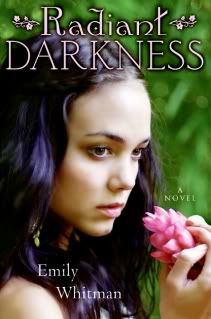 Radiant Darkness
by Emily Whitman
Persephone lives in a beautiful vale with her mother Demeter, surrounded by exquisite beauty. Yet, her mother can't seem to realize that she has grown up, and Persephone can think of nothing worse than living for eternity as a child. Every plant, tree, and creature around her has the chance to grow, but she is stuck until her mother recognizes that she has become a woman, which isn't going to happen any time soon.


Then a stranger enters the vale, dark and mysterious, with a magnificent chariot of flying horses. They meet often without her mother knowing, and then Persephone finds out that Hades lord of the dead has been wooing her. She is surprised that such a great god would notice her, and she is sure that he is only toying with her as Zeus would. Yet, Hades really loves her, and she really loves him, and though she is uncertain about ruling the underworld as his queen she decides to follow him into the realm of the dead.


Yet, she soon learns that things aren't right on Earth, and that her choices have a consequence that she hadn't expected. Can she stop her mother's wrath before everything on Earth is lost?


Okay, those people who have read for a long time know that I love mythology and especially the underworld. So, gotta say I loved this book! It is time for Persephone to set the record straight. This is the story from her point of view, and in it she wasn't kidnapped by Hades, but went with him willingly. I think this was a fun read, and I really liked how the author portrayed the underworld not as a dead thing, but as a place where things begin to grow. It was a place with dangers and perils, but it wasn't desolate or depressing at all. I also like how we get to see Persephone decide what she wants to do with her powers as a queen and as a goddess. Hades lets her do her own thing in the underworld, and supports her decisions as she tries to help the shades who are newly come across the river Styx.


I really like how the myth has been changed into to viewpoint of a teenage girl voice, but still retains the old mythology themes. Order versus Chaos, gods versus mortals, cycles of life and death, all that deep myth stuff that helps us to understand the world around us and appreciate it more. Really good read for mythology, classics, and fantasy lovers! I would recommend.