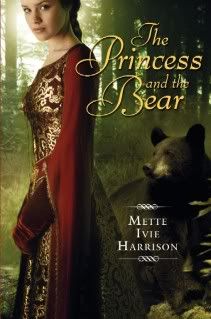 The Princess and the Bear by Mette Ivie Harrison

"
He was once a king, turned into a bear as punishment for his cruel and selfish deeds.
She was a once a princess, now living in the form of a hound.
Wary companions, they are sent—in human form—back to a time when magic went terribly astray. Together they must right the wrongs caused by this devastating power—if only they can find a way to trust each other.

But even as each becomes aware of an ever-growing attraction, the stakes are rising and they must find a way to eliminate this evil force—or risk losing each other forever."*
(*summary from jacket flap)
The Princess and the Bear is a sequel to The Princess and the Hound, which I read last summer. The main characters of the last novel Prince George and Princess Marit do appear briefly, but the story is mainly about the Hound that used to belong to Princess Marit, and the Bear, King Richon. I think I enjoyed this sequel more than I did the first book, though I did feel that the tone of the first book felt more magical. I love how real Harrison makes the hound's point-of-view feel. I love how she thinks differently than humans, and how she's fierce, wild, and strong. Harrison also has a way of portraying humans and their foibles in an honest, intelligent way that makes you think about why we are such weird creatures. I love the animal magic. I love how Richon desires to avoid becoming who he was in the past, and we get to watch him grow into a person the really deserves the title of King. I love how the book fosters and appreciation for all those things beautiful and precious in nature. As, you can see I really loved this book—a lot. I would recommend it to all girls with a love for fantasy, animals, and nature.


Mette Harrison Author's Website