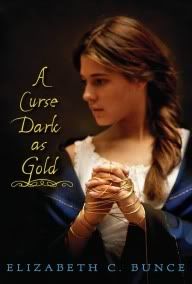 A Curse Dark as Gold
by Elizabeth C. Bunce
Elizabeth C. Bunce has several surprises in store for her unique retelling of "Rumpelstiltskin." There are no greedy kings, nor castles but instead she weaves a historical portrait of a small village struggling to survive in the birth of an Industrial Revolution. The author states that the world of Charlotte Miller is "Strongly influenced by the real woolen industries of Britain during the early years of the industrial revolution (for our purposes the late 1700's)." The tale opens after Charlotte's father has died, and left Stirwaters, the family woolen mill, to her. Her task is to surmount the enormous mountain of debt that her father left behind.


If that isn't enough of a burden things at Stirwaters haven't been right for a long time. The building has cracks in the floor, crumbling plaster, and is falling into disrepair, but Charlotte is not at fault for neglecting the building. Indeed, instead the building seems to reject such caretaking, as if it is cursed. Evidence of the curse is founded scattered through out the Miller's history. Never has the son of Miller inherited the place, passing to uncles, cousins, and finally to Charlotte and her sister—daughters.


At first Charlotte is skeptical of this history, chalking it all up to bad luck, until in dire need her sister summons up a sort of dark fairy. A Jack Spinner who agrees to spin a roomful of straw into gold. Selling the gold will give Charlotte the funds she needs to save the mill. His price—a gold ring of her mothers, merely a trinket in comparison. As each new catastrophe comes to the mill Charlotte grows suspicious, but she is desperate until, at last, the man Jack Spinner asks a price too high.


Charlotte must either part with those things dearest to her, or break the curse. There in lies another twist for the reader. The tale becomes more than just discovering a name, but the reason why. Not only an airy fairy-tale, but a story about discovering the secrets of the past. The story is rich with mystery, romance, and enough fairy tale and folk lore to enchant many a reader.


This story is a bit more thick and dark than the typical Fairy Tale retelling, but I still found it to be a delightful read.