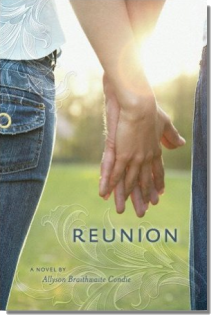 Reunion
by Allyson Braithwaite Condie
So, I previously posted about enjoying the previous book in this series, First Day. Reunion is more of the same, but with different viewpoint characters this time. We find out what happens to Ethan and Mikey, Dave and Avery, and hear more about Joel and Andrea, but the main story is about Addie Sherman (Dave's little sister), Sam Choi(Mikey's little brother), and Cate Giovanni(Andrea's seminary student).


Cate is experiencing her first year at BYU-Idaho, and experiencing conflict with new her roommate, who is very troubled. Addie struggles to keep her grades high enough to continue snowboarding with her friends every weekend. Then her sister-in-law Avery gets put on bed rest during her pregnancy, and Addie has to sacrifice lot to help her after school. Sam's family is busy with planning his older sister's wedding, and struggling with the decision to go on a mission.


It's really hard to get high school kids just right in fiction, but I think this series portrayal comes really close. I really love Condie's characterization. Her characters are real, and their problems are relatable and true to life. They are also honest, funny, and sincere. Not every problem is fixed, life isn't always perfect, and answers must be searched out. I especially liked how real the boys in the book were; they made me laugh lots. I've become a fan! I hope to read more books like this from Condie in the future.