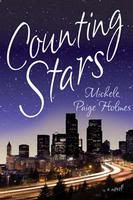 Counting Stars
By Michele Paige Holmes.
Jane was hoping for a date---maybe even a boyfriend. What she wasn't expecting was Paul Bryant's completely original and sincere pick-up line: Hi. I'm Paul. I have terminal cancer. My wife was killed in a car accident, and I'm looking for a woman to raise my children.It was never Jane's plan to fall in love with a dying man and his two infants. But her seemingly simple decision to date someone outside her faith leads to one complication after another. With the stakes this high, is choosing to help Paul a choice to be alone forever?And how can Paul feel so confident that this woman---who's never managed to keep a checking account for more than six months---should be the one to raise his children?How can something that seems so unbelievably insane feel so completely right?Sometimes love is found in the least likely places, and the greatest blessings are discovered while counting stars. (back liner of book)
Alright, I totally adored this book. I haven't been liking a whole lot of romance novels lately, but this book was so awesome! I picked up the book and couldn't put it down. I love how the conflict is so fantastic, yet still so real and relatable. The main character is easy to identify with, and completely charming. I love how the author shows that she is a romantic diehard through and through. I also love her sister! She's classic. All the characters are wonderful in this story. I also love that the creepy side love interest character totally becomes fleshed out and interesting at the end. Something I really didn't expect. I totally rooted for this book when I heard it was nominated for the Whitney award. I really wanted this great book to win because I loved it so much! So, I was delighted to find out that Counting Stars took the Whitney award home this year. I highly recommend this sweet and well-written book to all. I can't wait to read the sequel.
Blogger's Note: This post concludes the First Impression series. I don't have anymore, so I'll try to add new interesting things on Fridays. Thanks!