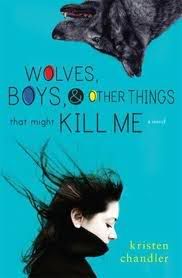 Wolves, Boys, and Other Thing That Might Kill Me by Kristen Chandler
KJ Carson has never attracted much attention in her small town of West End, Montana. Then she takes a Journalism class and is assigned to write a newspaper column on wolves with her new classmate and crush, Virgil. Virgil's mom is a biologist studying the wolves in Yellowstone park, and that means she gets to spend early mornings with Virgil and his mom learning about the wolf packs that roam the park.

Her fascination with wolves puts in in a precarious position with people in town. The ranchers are violently opposed to the wolves reintroduction into the park because their livestock is being killed. Then someone shoots at Virgil's pro-wolf float in the holiday parade and suddenly the argument about wolves as becomes dangerous as acts of violence and vandalism multiply.
In general I really enjoyed KJ's character in this book. She doesn't back down from what she thinks and is always quick with a clever comeback. She really knows how to fight with words. I found her kind of annoying in the fact that she doesn't make much effort to see the rancher's point of view when they live all around her. I thought that since she was the editor of the school newspaper she would make a bit more effort into getting an interview besides just ignoring the one rancher dude that hates her. There had to be other rancher kids that were less hostile toward her that she could have interviewed.
Overall, this was a pretty interesting book that explored the conflict surrounding the reintroduction of wolves into Yellowstone Park and I thought that was unique angle for a book. Occasionally, the small town setting felt a little plain to me, but the author managed to keep the story interesting by escalating the conflict between the rancher and the pro-wolf groups. In the end KJ has to confront the villain and survive both him and a harsh Montana hail storm, as her effort to make peace turn into a wilderness survival situation.