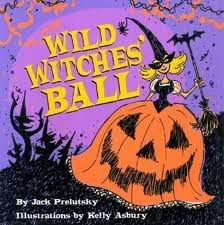 Wild Witches' Ball by Jack Prelutsky
This short Halloween poem is perfect for wee ones with short attention spans. Lately, it has been difficult to get the small one to sit still long enough to read to her. So this short little Halloween book was a perfect length.
The wild witch ball is in full swing during this festive Halloween night. From the ten groaning crones to the last lumpy witch this counting rhymes describes the attendees of the witches ball with clever and delightful poetry that rolls off the tongue.
The Wizard by Jack Prelutsky
I didn't read this one for Halloween precisely, but I did during the month of October and so I include it here.

Author Jack Prelutsky characterizes a creepy wizard and his mastery of his magical art. His words dance off the page, and the illustrations by Brandon Dorman are masterful, bringing the text to life in beautiful ways. I don't think I have seen text and illustration work so well together to create such a wonderful feeling of awe. I'll probably add this one to my library one day. It is simply gorgeous.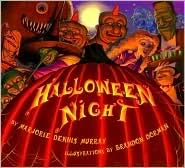 Halloween Night by Majorie Dennis Murray
A traditional Halloween inspired poem about ghosts, goblins, and other haloween worthy creatures preparing the house for Halloween celebrations. Ten unsuspecting children prance down their lane prepared to trick or treat, but they are in for a fright. This was a fun Halloween book to read the little one.