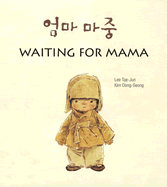 Waiting for Mama by Lee Tae Jun
This unique picture book tells the endearing story of a little boy waiting for his mother at the street car station. Bundled up in his yellow coat he waits patiently for her to arrive home.
This story was originally published in 1938 in a Korean newspaper, as such both the English and Korean text appear on each page. This background explains why the illustrations convey the setting of the book in whimsical Asian style art. The illustrator tried to capture the culture and time period of the story, which makes the book really stand apart from anything I've recently read. The beautiful art and simple text will transport you to another time and place. A simply wonderful read.
My only critique is that the story left me hanging at first. I wondered if the boy had found his mother, but then the last page of the book has a painting of the boy and mother walking home together, however they appear so small that it is hard to spot them at first glance.