Clever Jack Takes the Cake
One day jack receives an invitation to visit the princess's birthday party up at the castle. His mother tells him that he will not be able to go because they cannot afford a gift. Jack is disappointed but he comes up with a plan. With a little bit of creativity and work he manages to make the perfect cake for the princess. Cake in hand he sets out for the castle only to discover that the way there is more difficult that he imagined. First, crows eat the nuts on the cake, then a troll demands a toll to cross a bridge, and the candles are used in order to get through the dark, dark forest. Jack travels until finally he reaches the princess's feet with nothing to offer but a brave adventure story of how he travel to see her. Delighted with the gift of a clever story the princess becomes Jack's fast friend.
Once again the clever and polished story telling of Fleming delivers a delightful and entertaining tale about a boy poor boy who tries very hard to give his princess and nice birthday present.
Seven Hungry Babies
Momma Bird's eggs hatch one morning and now she has seven hungry baby birds on her hands. She travels all over the neighborhood snatching things for them to eat. When she if finally done feeding all seven and settles into rest they are hungry again. All moms can sympathize with this harried momma bird. This is a cute little tale full of fun repetition and sounds.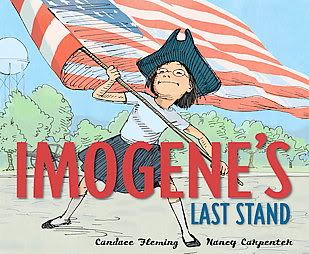 Imogene's Last Stand
Imogene Tripp is a unique character, who has had a passion for history from a very early age. In fact, her first words were "four score and seven years ago." She takes over the historical society of her small town Liddleville in New Hampshire. After organizing, cleaning, and repairing the old building news comes down from the mayor that he is going to tear down the historical society in order to build a shoe factory.
Imogene will not stand for the destruction of her town's history, but no one will listen to her protests. Not even when drops flyers from a bi-plane. Then she makes a marvelous discovery about the history of Liddlevill—George Washington stayed the night there once. Imogene notifies the town historian and asks for help, but it might be too late. Imogene is the only thing standing between the bulldozers outside and their town's precious historical heritage.
Seriously! I found another picture book I just adore by Candace Fleming. This little tale could also be ranked under my most favorite picture books ever. Imogene is a hilarious, passionate, and precocious little character that you can't help but root for. It is fun to watch her take on the whole town and fight for what she believes in.