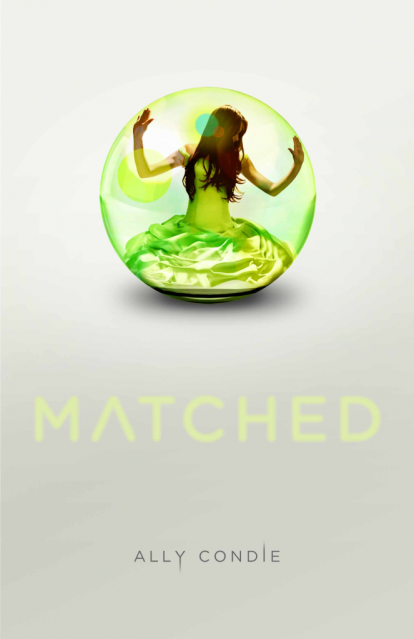 Matched by Ally Condie
"In the Society, Officials decide. Who you love. Where you work. When you die.
Cassia has always trusted their choices. It's hardly any price to pay for a long life, the perfect job, the ideal mate. So when her best friend appears on the Matching screen, Cassia knows with complete certainty that he is the one… until she sees another face flash for an instant before the screen fades to black. Now Cassia is faced with impossible choices: between Xander and Ky, between the only life she's known and a path no one else has ever dared follow — between perfection and passion."
Okay so, I finally get around to writing my review of matched. This was one book that I looked forward to reading all year. I saw so many ARC reviews of it on other book blogs that I almost got sick of hearing about the book! So when November rolled around I dropped by the bookstore to pick up a copy finally I was really excited to read the book. I was in the middle of my pregnancy reading slump, but I was immediately drawn into the setting. Condie managed to find a perfect balance between description, voice, and foreshadowing to bring me right into her dystopian world from the first chapter.



It was such a relief to enjoy a book again! I actually even liked the love triangle! Love triangles usually annoy me, but I could see why Cassia loved each boy, and I felt sympathy for both of them. They were both strong and interesting characters and I found myself wanting to know more of their background. The author hints at a curious relationship between Ky and Xander, and I found myself wanting to know more about these two boys, and their experience living in the society. I don't think I have wanted to get a longer background story about the characters in a novel since the Harry Potter Series. That is high praise indeed. There is an air of mystery about these two, and feeling that there is more to be said about their relationship than the novel hints at, and so I found the relationships dynamics entertaining and fascinating.



My only problem with the novel was the ending. Cassia is determined to find Ky, but she ends up in a random work camp unrelated to any other part of the plot. It seemed really odd and was a little bit dissatisfying to not see her not make more progress on finding Ky. It was more of a set up for the next installment rather than a satisfying end to the story line. Still I expect the rest of the series will be excellent, and I am excited to see what the author will present us with in the next installment, Crossed.

Author Allyson Condie's Website