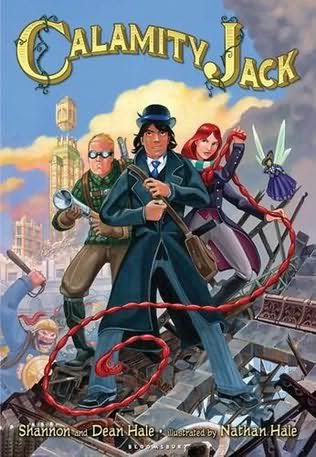 Calamity Jack by Shannon Hale
Calamity Jack is the sequel to Rapunzel's Revenge, a retelling of the Rapunzel story with a western twist. Calamity Jack takes place in the big city, and recounts how Jack ended up out west, and what happens when he come back home with Rapunzel. This retelling of Jack and the beanstalk opens with a humorous narration of Jack's wayward youth, and how he plotted to steal from the one of the town's most influential businessman, Blunderbore the Giant. Having angered one of the most powerful individuals in the city Jack made a break for the west.


Now that he has returned with Rapunzel he finds large portions of the city in ruins, and that everyone is afraid. Apparently, a large ant army has been terrorizing the citizens and destroying the city. Jack discovers that his mother's house is destroyed and that his mother is forced to work for Blunderbore himself. Jack is angry and determined to get his mother out of the clutches of the evil giant, but Jack must also contend with the mysterious ant creatures, which are still terrorizing the town. Jack and Rapunzel do some sleuth work and determine that the ant army and Blunderbore are somehow connected. Jack and Rapunzel have to put together a rag-tag team clever enough to rescue Jack's mom and save the town from the terrorizing ant army.


From the very first page this book had me laughing. I read this little book in one afternoon, and felt like I had just watched a very clever and satisfying movie after I finished. Usually, I have a hard time getting into graphic novels, but I was sucked right in from the beginning with this one. I don't know if that had anything to do with the fact that I had read Rapunzel's Revenge and so was already familiar with the characters, but I really enjoyed the story-line. The new characters— a fairy with a hat fetish, and a newspaper man obsessed with inventions— were funny and interesting. I had so much fun reading about their adventures as they plotted to take down Blunderbore together. I also really loved the city setting and the fun steam-punky inventions that showed up every once in a while. Rapunzel is a strong, spunky, female character that defies all conventions to come to the rescue of those in need. Jack is a lovable renegade with a soft heart. To all those in need of a quick, entertaining, and hilarious adventure story I'd recommend this book.