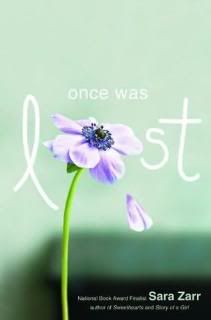 Once was Lost
by Sara Zarr
Samara Taylor used to believe in miracles. She used to believe in a lot of things. As a pastor's kid, it's hard not to buy in to the idea of the perfect family, a loving God, and amazing grace. But lately, Sam has a lot of reason to doubt. Her mother lands in rehab after a DUI and her father seems more interested in his congregation than his family. When a young girl in her small town is kidnapped, the local tragedy overlaps with Sam's personal one, and the already-worn thread of faith holding her together begins to unravel. (*summary from author's website)
I read
Sweethearts
earlier in the year and really enjoyed it, but I think I liked Once was Lost more. Early in the book Sam has to deal with the conflict of how exactly to tell people her mom is in rehab. It is slightly more awkward than just normal teenage embarrassment, as her father is the pastor, and the congregation passes a lot of judgment on her family. It doesn't help that her father hasn't announced the situation in church. Then a young girl from the congregation goes missing, and her dad is constantly gone trying to help the family. The novel portrays the search for the girl, the accusations and wild rumors that media stirs up, and the strain of not being able to trust the guy down the street.
The characters in the book have honest emotions and feelings. They are humans in a confusing world trying to deal with huge problems: a child being kidnapped, a wife/mother in rehab, the pressure to appear perfect. I think the author did a very good job with making all the characters rounded and human. I loved how the mother was never vilified into an alcoholic monster parent. I really liked was how the author showed how much Sam loved her Mom, and how she still needed her. Her relationship with her mom wasn't perfect, but they still loved one another.
This book has so many small-threads that weaved it all together. I really enjoyed reading it. One of my favorite things was that, though it dealt with hard topics, the book was never graphic or full of gory details. It seems that we as a society revel too much in the dirty and sad details of tragedies. It really was refreshing to read a book that didn't give into this temptation. It dealt with the difficult and honest emotions involved in the situation, but still remained a clean read.
Sara Zarr's Website