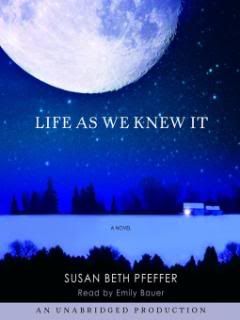 Life as We Knew It
by Susan Beth Pfeffer
Miranda starts hearing warnings that an asteroid is going to hit the moon. School and life go on as usual while everyone speculates about the upcoming event. No one expected that the moon would be knocked out of its place when the stray asteroid hit it. No one expected their entire world to change.
Power is lost, phone lines go down, gas shortages, grocery store raids, and other mayhem occurs as people prepare for the worst. News that tides have turned into tidal waves and previously dormant volcanoes have erupted only make the situation more dangerous. Miranda and her family will have to find a way to make it through one long dark winter, together.
This is a really compelling read, and it is hard to put down. I loved how the story was told in first person journal format, and I really related to Miranda's character. I loved how honest she came across in her journal entries. At the beginning of the book she sounded so similar to my thoughts about life when I was her age. Then you get sucked into worrying about how she and her family are going to survive this apocalyptic type situation. The entire world is affected by this natural disaster of epic proportions, but there is a sense the world is still moving on. Everyone is still trying to survive, and her family becomes the most important thing.
This one will definitely have you taking stock of the food in your cupboards, and pondering what you would do when the worst happened. This is an excellent book that I would recommend to all. The Sequel
This World We Live In
comes out in April and I'm way excited to read it.
Visit Susan Beth Pfeffer's blog