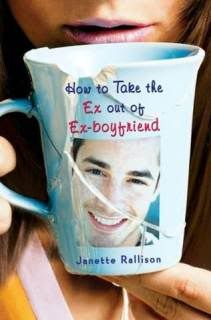 How to Take the Ex out of Ex-boyfriend
by Janette Rallison
Giovanna's brother, Dante decided to run for school president because he's tired of the shallow way the popular kids run their campaigns. Her boyfriend Jesse is wonderful except for one thing—his friends. All of Jesse's friends are in popular camp and Giovanna can barely stand them. When Dante announces his campaign Giovanna naturally supports him, but Jesse supports his friends and suddenly he is part of camp enemy. Annoyed by Jesse's betrayal she breaks up with him, but as she starts to date other boys (mostly to make Jesse jealous) she realizes just how good she had it. How can she help her brother win the campaign for student body president and win her boyfriend back?


Have you ever had the experience where you really like an author, but kind of loose track of reading their books for a bit, and then you pick up one of their books again? Then remember why you fell in love with them in the first place, nay more, in fact, you're convinced they've gotten a million times better. I've been a Janette Rallison/Sierra St. James fan forever! I love how funny her stories are, her characters have strong voices, and there is always a cute romance scene. She also likes to have embarrassing stories, and in the past a few of them have felt contrived to me just a tinsy bit. Yet, this book didn't have that moment where I was like…that's a bit awkward. This book didn't have any of that, and it flowed really well. In fact Jesse was a perfect hero, and yet a realistic teenage boy. I really liked Dante too, he reminds me of my little brother in some ways.


P.S. I find it weird that I read two books with Italian characters named Dante just months apart from each other. They were both by LDS authors too. Hmmm, soon we're going to meet children in primary named Dante. Not sure what I think about that. Either way, I've been to the real Dante's tomb—both of them. (No, there are not two Dante's but two tombs for the same Dante) I really like Dante. I did tell you of my obsession with the underworld did I not? Who wrote the coolest underworld narrative ever? Dante!