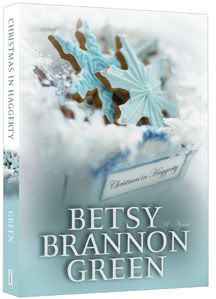 Christmas in Haggerty by Betsy Brannon Green
Kate Iverson is having a hard time feeling the Spirit of Christmas. Her relatives seem to be welcoming new little ones to their family, and while she has two beautiful children, she mourns over the fact that her childbearing years are already over. Yet, in Haggerty there is much service to be done, and as she gets caught up in family history projects, baking, and Christmas pageants. Not to mention the fact that she must come up with an idea for the neighborhood door-decorating contest. Yet, she keeps dreaming about a little girl that needs her help, and ends up being of greater service than she could have ever expected.

This was an enjoyable little Christmas novel. I haven't read the entire series that this little Christmas book is a spin off of, though I have read the first book, which I did enjoy. I sort of wish that the physical setting was described a bit more, but I think that it is probably set up well enough in the series that most readers familiar with it wouldn't mind a bit. The town of Haggerty already lives in their heads. The characters were charming and lively, and gave the little town a quirky and enjoyable flare. I also enjoyed the fact that the book isn't overtly sappy or sentimental, and yet still has meaning. Christmas in Haggerty is a quick and enjoyable read for the holiday season.