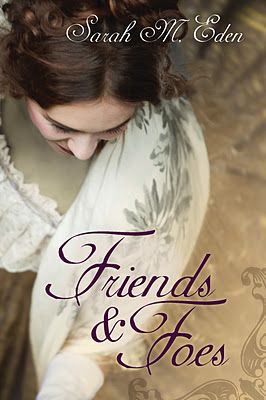 Friends and Foes by Sarah M. Eden
"After five years of tracking and capturing spies on English soil, Philip Jonquil, Earl of Lampton, is in pursuit of his last quarry. But at a traveler's inn, he encounters an unexpected and far more maddening foe: Sorrel Kendrick, a young lady who is strikingly pretty, shockingly outspoken, and entirely unimpressed with him. Indeed, Sorrel cannot believe the nerve of this gentleman, who rudely accuses her of theft and insults her feminine dignity. Doubly annoyed when they both end up at a party hosted by mutual friends, Philip and Sorrel privately declare war on one another. But Philip's tactics, which range from flirting to indifference, soon backfire as he finds himself reluctantly enjoying Sorrel's company; and, much to her dismay, Sorrel finds Philip's odd manner to be increasingly endearing. In the midst of this waning war and growing attraction, Philip catches wind of the French spy he's been tracking, and Sorrel inadvertently stumbles upon a crucial piece of the puzzle, making her indispensable to the mission. But can two proud hearts negotiate a ceasefire when cooperation matters most?" (dust jacket summary)
I am very happy to report that I really loved this novel. I adored the witty and funny dialogue between the characters, and found that I really empathized with both Sorrel and Philip. The novel for the most part takes place at an estate in the countryside in Suffolk, as Philip is invited there for an extended stay over Christmas. This is convenient since the French spy he is looking for tends to do his business in that area.
He quickly makes enemies with Sorrel, as he dreadfully offends her while teasing her that the cane she carries about is not very feminine. It is then revealed that the cane is more than just a fashion choice, but a necessity on account of her lame leg. Horrified to have made such a mistake Philip tries to apologize only to find himself entangled in a war of words.
I thought Eden did really well with showing how the characters came to like one another despite the fact they started their relationship out bickering with one another. I totally wanted the book to keep going after I finished reading it. I loved how Philip's watched over his big family and the courage Sorrell had when facing her challenges with her lame leg. I would totally recommend this book to those that like a good regency or historical romance.
Visit
Sarah's M. Eden's Website