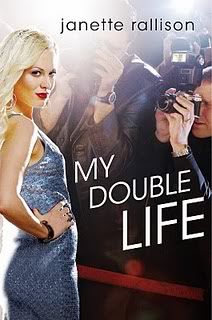 "Her whole life, Alexia Garcia has been told that she looks just like pop star Kari Kingsley, and one day when Alexia's photo filters through the Internet, she's offered a job to be Kari's double. This would seem like the opportunity of a lifetime, but Alexia's mother has always warned her against celebrities.



Rebelliously, Alexia flies off to L.A. and gets immersed in a celebrity life. Not only does she have to get used to getting anything she wants, she romances the hottest lead singer on the charts, and finds out that her own father is a singing legend. Through it all, Alexia must stay true to herself, which is hard to do when you are pretending to be somebody else!" (summary from good reads)




I think the first line of this book is sort of hilarious considering the fact that I got to talk to Janette Rallison at the LDSstorymakers conference while she was revising this book. She wasn't really all that excited about writing this book because while she came up with the initial idea when she sat down to write it (because her editor requested it) she found it kind of limiting. I still think the book turned out great, which is a sign that she is an experienced and skilled writer.

It seems very similar to Just One Wish on a surface level. A normal everyday girl goes to Hollywood and falls in love with a handsome star, but Alexia has very different struggles than the main character Annika in Just One Wish. She has grown up dirt poor, watching her Latina mother work as a housekeeper at a very nice local hotel. She knows that her father abandoned them when she was just a baby but not much else. They live a good life, though a very simple one. So, when Alexia is offered the chance to go to Hollywood and be Kari's double she thinks seriously about the offer, but her decision isn't final until she finds out that she may be able to meet her father, who abandoned her family when she was young.

This story ended up being a entertaining, light-hearted romance that even made me teary-eyed on one occasion. I read this book rather quickly considering the time I had to read it in. I always seemed to get sucked into Rallison's novels and can't put them down. This book was no exception.




Janette Rallison's Website