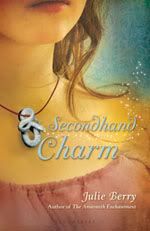 The Secondhand Charm by Julie Berry
The end of school looms before Evie and her friend Priscilla, who have both fought for the highest grades and honors in school. They both feel too young to start families, and Evie has long held the dream of attending the university to become physician like her parents. The villagers consider Evie lucky because of her unusually good health and skill in helping others during childbirth and illness.
Then shortly before the traditional feast of St. Bronwyn a herald appears to announce that the king himself will be visiting their celebration. Soon the town is abuzz with repairs and preparations. One town member even manages to invite a troop of gypsies from which Evie buys a few good luck charms. Perhaps that is why her skill is called upon when one of the king's men falls ill with a fever. Evie is able to heal him, and either as a result of her new gypsy charms or the good deed, the king offers her and Priscilla chance to study at the university in Chalcedon.
As Evie sets out for the capital with her friend Priscilla and her old neighbor Aiden, who is returning to finish his apprenticeship to a stonemason, she discovers that not even a lucky charm can protect her from unsafe travelling conditions. After several mishaps she ends up sailing to Chalcedon on a ship, and finds that she has an almost magical attraction to the sea. She soon discovers that this feeling is more than newfound awe, and discovers that she has an ancestry that she never knew about before, an ancestry, which includes her having a powerful sea serpent as her companion.
Last year Julie Berry's debut novel
Amaranth Enchantment
came out, and this year she publishes her next novel
Secondhand Charm
, a story about a girl who stumbles upon her magical powers unexpectedly. The discovery of her powers helps her to make friends in high places, and soon she discovers that someone is plotting against the king. Evie must come up with a plan to stop the plotters from succeeding, and save the king.
I really enjoyed this little fantasy novel. It was a quick read with a strong action plot, though the author sneaks in Aiden, who was very crush worthy, as a romantic lead. I really liked the sea serpent twist in the story, and thought it was interesting to see Evie getting used to her new serpent friend. One of my biggest complaints was that I wished the story had lasted longer! I would have loved more details about her sea serpent. The only other thing was that I found it odd that Evie took the big reveal about her ancestry at the end pretty easily. I would have thought that she would be more upset about finding out the truth about her mother.
Overall, this story drew me in from the first page with the line, "And what were fish eyes between friends?" and kept me interested until the very last page. The ending is satisfying and yet leaves the possibility open for a sequel. Since I wanted to read more about the world and Evie's sea serpent powers I would very much love to see one.
Visit Julie Berry's website