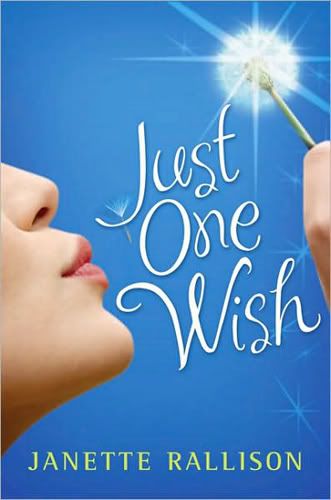 Just One Wish by Jannette Rallison
Annika's main goal in life is to keep her little brother's spirits up because he has cancer, and cancer patients need to stay positive. The problem is that he wants to meet Teen Robin Hood, but it shouldn't be too difficult to convince a Hollywood actor to come help a boy with cancer, right? Especially, if her little brother only has a week until he goes into surgery.


Turns out that contacting Hollywood actors is a little more complicated then she thought, but that doesn't stop her. She would travel to the ends of the earth to fulfill her little brother's wish. Driving four hours to a movie set in California isn't going to stop her. It is the sneaking onto the movie set that is the hard part, but Annika has got that handled until Mr. Teen Robin himself decides to throw her in jail. Can she convince this arrogant teenage star to help her brother, and let her go free before it is too late?


I finally got this book at the library. Finally! This one has been on my to-read list since it came out. I think I actually put it on hold at the library last summer, but then I started my first year of teaching and it went off of the read list until life returned to sanity. So, I'm really happy to say I loved this book. I was hooked from the very first chapter, and couldn't put the book down after that. I really sympathized with Annika's determination to bring hope into her little brother's life. I also loved her hilarious capers across a Hollywood set. I couldn't put this book down and finished it in one day. That hasn't happened to me for a long time. I was so immersed in the story I didn't put the book down for hours. I highly recommend Jannette Rallison to anyone who loves a clean romantic comedy.




Jannette Rallison's website