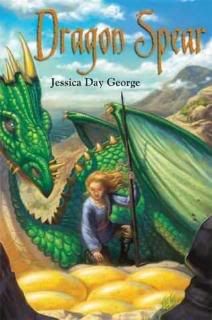 Dragon Spear
by Jessica Day George
This is the third book in George's dragon trilogy, and her heroine Creel is off to visit her dragon friends before she get married to prince Luka. She makes great plans to enjoy her vacation and finish up sewing her newest masterpiece—her wedding dress. She arrives to find Velkria and Shardus expecting a few of their own little dragons any day now. Then Velkria is kidnapped by another group of dragons, who are struggling to survive on a volcanic land far across the sea.

Shardus, Creel, and the other dragons go on a quest to rescue their pregnant Queen before she or the hatchlings are harmed.

I really enjoy these little books, fun and easy to read. They have a strong adventure plot and charming characters that you really grow to love. It was fun to see how the dragons are doing in their new home, and also to see the culture of another set of dragons living across the ocean. The author spends a lot of time making each of the dragons colorful and unique characters, and so they are memorable to read about. The plot brings out more of the culture and history of the dragons, especially centered on how this rogue group of dragons came to steal Velkria for their queen. Creel's family also appears in the book, crowding in on her turf. Creel's aunt isn't the easiest person to get along with, but Hegan goes off on the dragon adventure, and finds his own path to follow. Fun read for both boys and girls.
Jessica Day George's Website