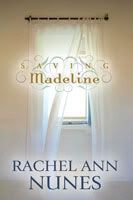 Saving Madeline
by Rachel Ann Nunes
"As a public defender, Caitlin McLoughlin dreams of someday locking the bad guys in prison instead of defending them. But prosecuting jobs are scarce, and Caitlin's future seems bleak. When her current client is about to walk away from a brutal crime, she risks her career to make sure he doesn't hurt anyone else. Yet what if her choice means sacrificing her career and the means care for her mentally disabled sister?
Then Caitlin meets Parker Hathaway, charged with kidnapping four-year-old Madeline. Just another criminal, another job, Caitlin thinks. But Parker tells a far different story. Can Caitlin believe him, as her heart urges? Is she willing to put everything on the line to defend her client—a man who claims to be protecting the child he loves? Or is her trust better placed in the handsome deputy district attorney with his undefeated record in court?
Caitlin's pursuit of the truth swiftly thrusts her into a maze of unanswered questions and unexpected heartache.Meanwhile, time is running out for Madeline. If Caitlin doesn't find the proof she is looking for soon, there may not be a future for any of them" *(summary from author's website)



Rachel Ann Nunes had presented the market with another issue-driven romance, inspired by a news story about a man, who kidnapped his own child to protect her from her mother's drug abuse. The girl was taken away from her father only to die a few days later from ingesting an unattended bag of drugs.


This story follows a similar thread, except the main characters Parker and Caitlin need to prove that Madeline's mother has been using drugs to provide him a defense for kidnapping his own daughter. A task that is harder than they thought it would be considering her shady past history, and Caitlin begins to doubt that Parker is telling the truth about his wife. Parker is ready to give up everything to save his daughter, and you sympathize with his predicament along with the hard choices that it forces him to make. I liked that Caitlin was a good attorney, hard and cold when she needed to be, but warm and human at the same time. Overall, I really enjoyed this story and wanted to know what happened to the characters at the end. I was especially intrigued by the legal bent, and touched by the author's desire to tell the story of children who lived in dangerous homes because of drug-use.