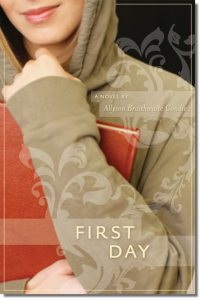 First Day
by Allyson Braithwaite Condie
"In the sequel to Yearbook, the characters are in the middle of it all. Two and a half years after we left off, Andrea Beckett is a junior at Cornell University in New York. She's caught up in the whirlwind of finals, decisions about jobs . . . and decisions about love, too. Dave Sherman has returned home from his mission, and they will have to decide where their romance is going. In addition to everything else, Andrea just received the assignment to teach early-morning seminary to a group of eight high school students, who all have their own decisions to make and challenges to overcome. Meanwhile, Andrea's brother Ethan is serving a mission in Brazil. The language is new, the culture is different, and sometimes being Elder Beckett is harder than he expected."*

Alright, so I read Yearbook a while back, and enjoyed some parts of it, but wasn't really sold on how many point-of-view characters there were. I kept getting confused, and so I decided not to read First Day. Fast forward to visiting my in-laws house in December. I noticed vaguely that my sister-in-law was reading Yearbook, commented that I had read it. It was good, but not extremely great for me. Then later in the day, I see the book lying on her bedside table, and the condition it's in. It's practically falling apart because she's read it so much. I also see First Day on her bookshelf in similar condition. So, I think about it and realize, you know I can see why she likes it.

My husband ran track through high school, she plays soccer like a crazy demon, and does track. They all have this loyalty to their high school that is annoying, but understandable. They all went to the same place, and all their friends went to the same high school. I moved so it wasn't the same for me. So, I figured I gotta try this series out one more time, cause my sister-in-law likes it. So, I get First Day from the library. At first I was bored, but the more I read the more the characters really grew on me. I loved the setting of Ithaca, New York. There weren't as many point-of-views, and so I was never confused, and really got to know the characters well, and got a full plot line. I felt like the first book had a disjoined plot feel to it, because there were so many point of view characters that you couldn't do an entire plot arch with them all. This fact made me feel sort of dissatisfied with the book.

First Day was all around good writing, and a really good book. This time I could relate more to the characters making decisions in their lives, and falling in love, and worrying about the future. I related to it all in bunch of ways. I kept nodding my head and saying yeah, I remember being there, or yeah, I'm feeling that way right now. Yet, there aren't easy answers for every character, though a few do get easy answers, and so I appreciated that. The balance and acknowledgement that some people have easy answers to decisions, others agonize for weeks until finally they just go with a direction they feel is right. I also really loved the subtle, gentle humor that I noticed in this book. I found myself smiling at a line of dialogue, or a humorous scene.

So, go forth and read my pretties. This is a series that I recommend.
Ally Condie's Website:http://www.allysoncondie.com/

*excerpt from back of book