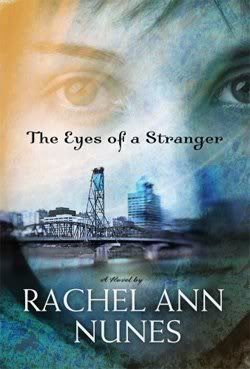 Eyes of a Stranger
by Rachel Ann Nunes
As Tawnia McKnight drives into Portland, leaving behind her boyfriend Bret Winn and her old job, she narrowly avoids a tragedy. One of the main bridges leading into the city collapses, injuring and killing many people. The tragedy leads Bret, a bridge engineer, back into her life, but while investigating the cause of the bridge collapse he finds a woman standing at the water's edge that has the same strange eyes as Tawnia, and mistakes them to be the same person at first.

This woman, Autumn Rain, has lost her father in the bridge collapse and needs help getting back on her feet. Tawnia takes her under her wing, but they are so similar that she wonders about her mysterious adoption, especially since Autumn was adopted also. Autumn shows an interest in Bret, and Tawnia's feelings are torn between her attraction to Bret, and a new handsome firefighter that saved Autumn during the bridge collapse. Yet, the situation turns dangerous when they discover that the bridge disaster was not caused by structural weaknesses, but by explosives.

I enjoyed reading this book, and the multiple plot lines that the author threaded through the story. I also liked how the author cleverly got her characters to be in the same place at the same time without it seeming too easy, and believable. I'm not sure what else to say about the book, but I like Nunes because she always puts out a good product. I wish for more character depth sometimes (like I do the majority of the time), but she always has interesting conflicts and plots. Plus, I always feel that she is one of the less melodramatic romance authors in the market, and that is refreshing. So, in short I liked it, but it won't be on my favorites list.